Welcome to Lafayette Elementary School News!
Our Lafayette Elementary School students and staff are bound to make you smile! We regularly publish news highlighting their stories and accomplishments here. Check back often for updates!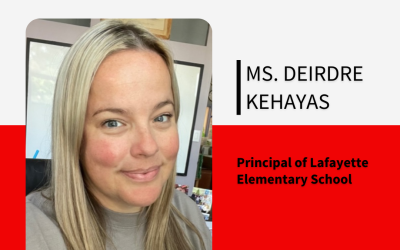 Ms. Kehayas explores her journey that led her to Bound Brook, her motivations to become a school principal and what she is looking forward to the most in the 2023-24 school year. Please tell us your educational background and what you've done prior to joining Bound...
Red Ribbon Week takes place October 23-27. The campaign slogan is: Be Kind to your mind, Live Drug Free Please view this flyer for more information: Red ribbon week 2023 October 23-27 (1) (1)
The Lafayette Back to School night will take place Thursday, Sept. 28 from 5:30 p.m. to 7:30 p.m. Please see below for slides in English and Spanish: Back to School Night Slides (English) Back to School Night Slides (Spanish)
Somerset Cty Resource Fair 10.6.23
Dear Parents/Caregivers, Please see the attached letter and information from the school counseling department. Thank you.   Estimados padres y guardianes,   Por favor consulte la carta adjunta y la información del departamento de consejería escolar.    Gracias. ...
Make Bound Brook a better place! Register to help clean up the community. See the flyer for details & to register!
Due to the status of the construction project, Lafayette will not be having an Open House. If you have any questions, you can reach out to Ms. Robyn Griffin, Director of Curriculum and Instruction, at rgriffin@bbrook.k12.nj.us.