Lafayette Elementary School is excited to welcome the return of its peer mentor program, started by Principal Erika Clarke last year for the first time. 
The idea initially originated from wanting more creative ways to offer support to students inside the classroom, and to show them that they have an entire community behind them.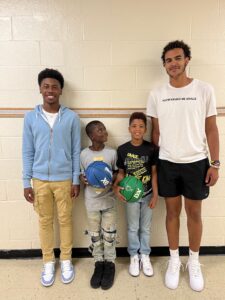 The mentorship program pairs first graders at Lafayette with juniors from Bound Brook High School's Basketball Team to encourage a positive self-image and promote the importance of education. It also allows the pairings to continue the following year as they become second graders and seniors, respectively. 
With help from BBHS Boys Basketball Head Coach Anthony Melesurgo, the chosen BBHS athletes are able to play sports together with Lafayette's students, offer advice, and ultimately build a strong bond that gives the younger ones something to look forward to at every meeting.
"The students chosen from Lafayette will also be welcome to attend practices and games throughout the basketball season as a way to establish a deeper connection to the Bound Brook community," Clarke added.
Clarke hopes the program can continue for those students who need the supportive shoulder as they continue on their learning journeys. The Lafayette and BBHS communities are thrilled with its return!
El Programa de Mentores de La Escuela Primaria de Lafayette Ha Regresado
La Escuela Primaria de Lafayette se complace en dar la bienvenida al regreso de su programa de mentores que fue iniciado por la directora, Sra. Erika Clarke, el año pasado por primera vez.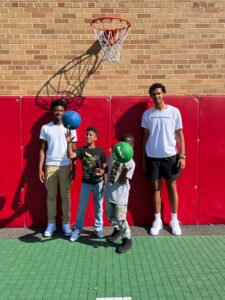 La idea surgió inicialmente debido al deseo de encontrar formas más creativas de ofrecer apoyo a los alumnos dentro del aula, y para mostrarles que cuentan con el apoyo de toda la comunidad.
El programa de mentoría empareja a los alumnos del primer grado de Lafayette con los miembros del equipo de básquetbol del grado 11 de la escuela secundaria de Bound Brook para fomentar una imagen positiva de sí mismos y promover la importancia de la educación. También, permite que los emparejamientos continúen al siguiente año cuando se conviertan en alumnos de los grados 2 y 12, respectivamente.
Con la ayuda del entrenador principal del equipo de baloncesto masculino de BBHS, el Sr. Anthony Melesurgo, los atletas de BBHS elegidos pueden practicar deportes junto con los alumnos de Lafayette, ofrecerlos consejos y, por lo general, crear un vínculo fuerte que da a los más jóvenes algo para esperar en cada reunión.
"Los alumnos elegidos de Lafayette también serán bienvenidos a asistir a las prácticas y los partidos durante la temporada de básquetbol para establecer una conexión más profunda con la comunidad de Bound Brook," dijo la Sra. Clarke.
La Sra. Clarke espera que el programa pueda continuar para los alumnos que necesitan el apoyo estrecho a medida que continúan en sus viajes de aprendizaje. ¡Las comunidades de Lafayette y BBHS están encantadas con su regreso!