As you drive past Lafayette Elementary School, you will see that construction is well underway on the new cafeteria space. The district broke ground on the expansion in January 2023 and it is projected to be completed in just one year.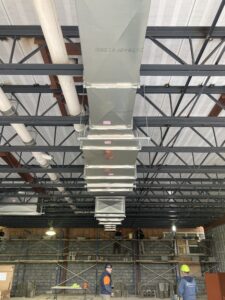 "Snow is a big factor in slowing construction down," said Norberto Molina, Director of Building and Grounds. "Luckily, we had a very mild winter…so, we've been able to keep making steady progress on the build."   
The new 4,200-square-foot addition will increase the functionality of Lafayette Elementary School. The current multipurpose room is used as a gym, auditorium, and cafeteria, which creates an almost two-hour lunch period where most physical education (PE) classes cannot run. Music rehearsals, class pictures, book fairs, and other events also impact instruction time as the space is not adequate to be shared with PE classes. 
After PE, maintenance staff must swiftly transform the room into a cafeteria to accommodate students for lunch. Once lunch is served, the maintenance staff reverse the process; they clean the room and secure the tables so another PE class can begin. The new addition will allow lunch tables to remain open in the cafeteria throughout the day, while also allotting separate space for PE classes to take place without interruption.  
"Ms. Nelson, our PE teacher, has been incredibly flexible," said Ms. Erika Clarke, Principal of Lafayette Elementary School. "But we are all excited for her to have her own, dedicated space to teach students about the importance of a healthy and active lifestyle through PE class."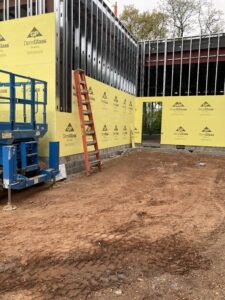 Since breaking ground, construction has made steady progress. "The exterior walls of the space are up and awaiting installation of brick. Inside the cafeteria, HVAC ductwork and plumbing are all underway. We have also installed the firewall between the old and new space," said Molina. "Electricians are set to begin work soon."  
District staff and professionals planned carefully to ensure students experienced minimal interruptions throughout the school day. This includes scheduling the bulk of the work that could potentially distract students for off hours. Despite the construction, students are still able to enjoy outdoor recess on the playground and blacktop.  
"Our teachers have been very supportive of the changes and have shown a great deal of flexibility," said Ms. Clarke. "It also helps to know how beautiful the new space will be and the positive impact it will have on our students and staff."